Our septic and pumper trucks are the biggest truck tanks we offer, with pumper tanks ranging from 2,000 – 5,500 gallons. Every Best Enterprises vacuum truck tank is made from the highest quality 304L stainless steel and custom designed to meet your exact needs and specifications.
We know that in this industry, businesses stay in the family. Have a tank you can pass down to the next generation. Our septic and pumper trucks are made with the highest quality materials and fine craftsmanship to bring a longevity that's second to none, so you can feel comfortable with your investment.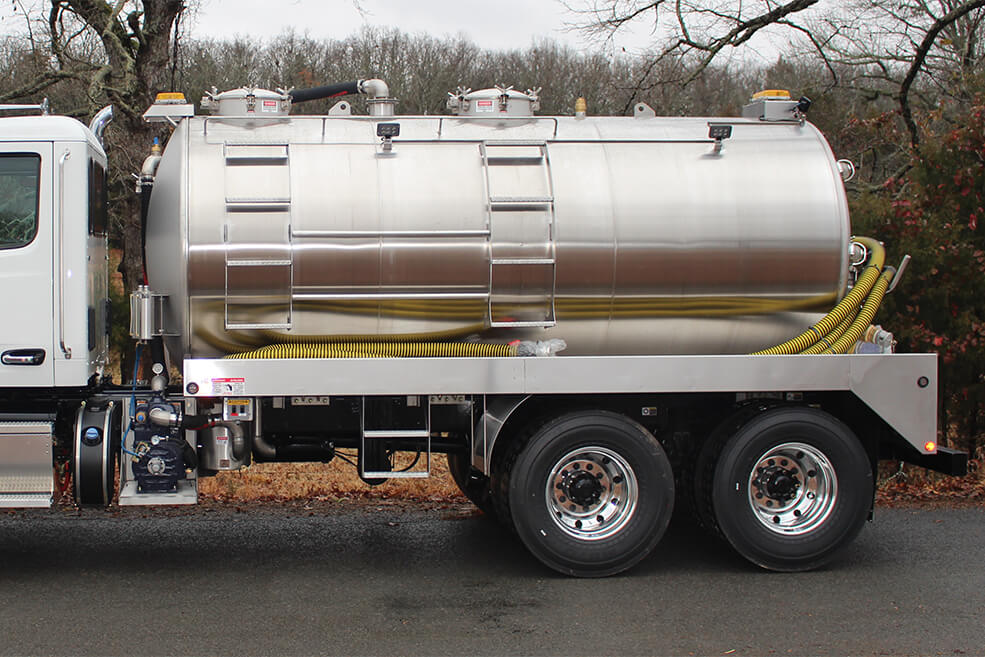 Vacuum Truck Galleries
Check out the galleries of vacuum truck solutions completed for our satisfied customers.
Customization the way you need it
Features & Options
Explore the features and options available for our septic and pumper trucks.
304L stainless steel tank
Stainless steel primary with shut-off sensor
Stainless steel secondary
Stainless steel oil muffler (NVE Blower comes with own muffler)
Stainless steel diesel flush
Stainless steel catwalk/work tray
Outside switch box
LED Stop/Turn/Taillights
Masport, NVE, Conde, Moro vacuum pumps
Sealed bulb back-up lights
DOT light
Marker lights on stainless steel bed
20" manway
Heavy duty bumper with 7-way plug
5" glass sight glasses
Angle (PTO) or hydraulic drive systems
Customizable dump size, with dump sump and 10' hose
Water compartment

MTH DC10
AMT DC10
Hannay Spring Retractable Hose Reel 50' Hose
Stainless Steel Water Hose Hook

Jetter System with ½" x 275' Hose and/or Tank Clean-Out
Custom-made stainless-steel toolboxes by our craftsman

Aluminum toolboxes, diamond plated or flat finish

Stainless steel toilet carrier
Backup camera
Remote control
Scented muffler
Heated options: collars, dumps, inlets, heated water compartment and toolboxes
Work lights, strobe lights
Stainless steel bucket holder
36″ manway