Slide-in vacuum tanks are the perfect choice for getting started in the business, as a backup unit, or for scenarios when a smaller tank is required such as events or in tight urban areas. A slide-in pumper tank can be mounted on different transportation vehicles including pickup trucks, flatbed trucks, and trailers. We offer custom slide-in vacuum tanks as well as two standard stock options.
Built with the same high standards of quality as our full size tanks, our custom slide-in pumper tanks are made from 304L stainless steel to offer the highest durability. Have peace of mind in your investment knowing that these slide-in pumper tanks will last for the long haul.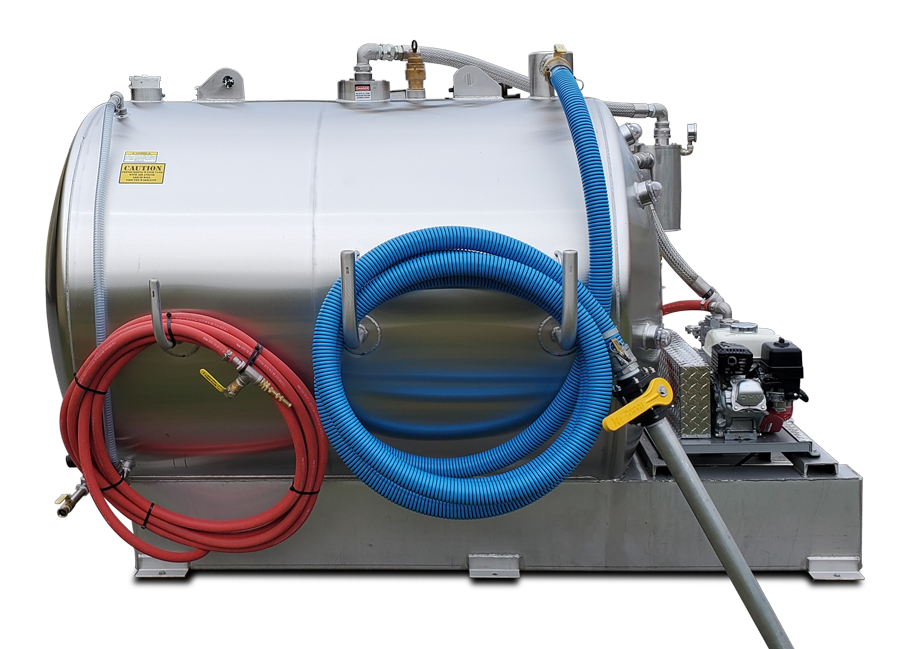 Customization the way you need it
Features & Options
Explore the features and options available for our slide-in vacuum tanks.
Model GH450 – 300 Waste & 150 Fresh Water
All 304 stainless steel metal (no secondary or out of spec material)
Honda 5.5hp electric start engine w/battery
Conde super 6 vacuum/pressure pump (90 cfm)
Toico water pump (35 psi)
30 foot of wash-down hose
Stainless steel hose hooks
304 stainless steel primary
304 stainless steel secondary shut-off
Pressure relief valve
Vacuum relief valve
2 – 2 inch sight glasses on waste compartment
¾ inch sight tube on fresh water compartment
2 inch suction inlet
2 inch x 30ft tiger-tail (hi-vac) suction hose with suction wand
Stainless steel suction hose hooks
3″ dump valve with dump sump, 10ft dump hose and quick coupling
Stainless steel lifting hooks
MODEL GH650 – 400 Waste & 250 Water
All 304 stainless steel metal (no secondary or out of spec material)
Honda 5.5hp electric start engine w/battery
Conde super 6 vacuum/pressure pump (90 cfm)
Toico water pump (35 psi)
30 foot of wash-down hose
Stainless steel hose hooks
1 ½ inch water dump
304 stainless steel primary
304 stainless steel secondary shut-off
Pressure relief valve
Vacuum relief valve
2 – 2 inch sight glasses on waste compartment
¾ inch sight tube on fresh water compartment
2 inch suction inlet
2 inch x 30ft tiger-tail (hi-vac) suction hose with suction wand
Stainless steel suction hose hooks
3″ dump valve with dump sump, 10ft dump hose and quick coupling
Stainless steel lifting hooks
Custom Tank Size and Split
Conde SDS 6 (115 cfm)
Masport HXL3 (112 cfm)
2" x 50' Tiger Tail Hose
Dual 2" Suction
Custom placement of pump platform – or no platform
Custom hose hook location